Announcements
---
December 2020
LiUNA! Sponsored 2020 New Year's Eve Television Special
From Ontario With Love: A Celebration of Hope
Award-winning performers Avril Lavigne, Divine Brown, Jully Black, Measha Brueggergosman, Barenaked Ladies, Loud Luxury, The Tenors, Front Line Workers and many more to headline 90 minute spectacular New Year's Eve celebration.
Click here to watch as of 10:30pm on December 31st.
---
May 2019
Negotiations of Provincial Collective Agreements
The Provincial ICI (Industrial, Commercial & Institutional) Collective Agreement has been ratified. Proposed improvements and changes to the agreement that expired on April 30, 2019 have been approved by the LiUNA members province-wide and will be implemented in the collective agreement.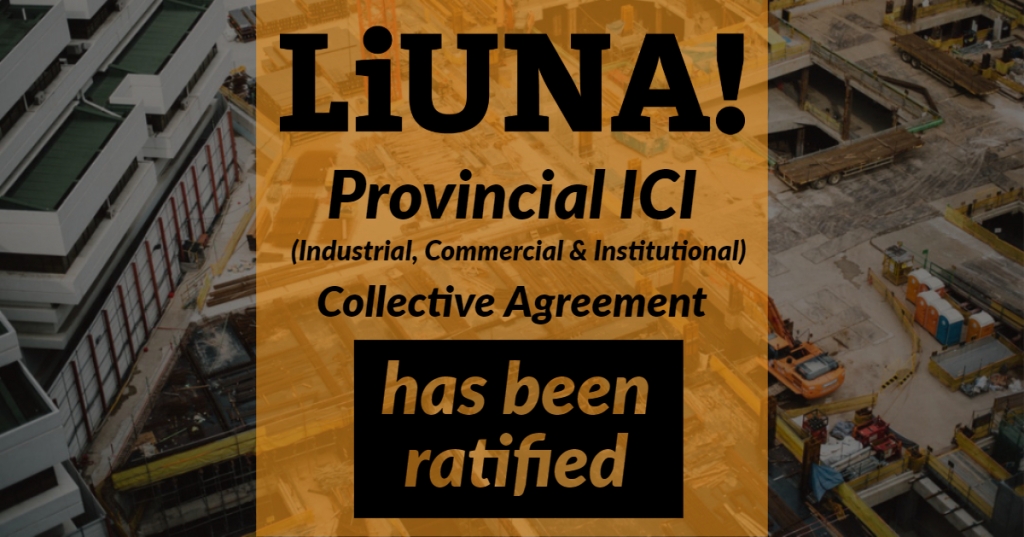 Other provincial collective agreements that expired April 30, 2019 that have been ratified include:
Provincial Utility Collective Agreement
Provincial Precast Collective Agreement
Provincial Demolition Collective Agreement
Thanks to all the members for their support during the negotiations!
---
June 2018
Upcoming
We are now accepting applications for the 2018-2019 Scholarship Awards. All the information and documents can be found on the Scholarship page.
The Members' Family Summer BBQ will be held on Saturday, August 18, 2018. Kindly return your confirmation slip (included in your invitation) by July 20, 2018.
---
November 2017
Monthly Union Dues Increase
Please be advise that the monthly union dues will increase by $2.00 to $30.00 per month effective January 1, 2018.
*Retiree monthly union dues will not be affected by this increase and will remain $8.00 per month.
---
April 2017
Join us on April 28, 2017

Canada's National Day
of Mourning Ceremony
Friday, April 28th at 12:30pm
Attend the memorial at the CLC Monument in Vincent Massey Park
Speakers include:
Donald Lafleur (Vice President, Canadian Labour Congress)
Sean McKenny (President, Ottawa and District Labour Council)
Robert Blakely (Director of Canadian Affaires, Canadian Building Trades)
and others…

Info: 613-233-7820

---
March 2017
SINGERS AND POETS
SEND THE CBTU YOUR AWESOME SONG OR POEM
$5,000 honorarium
Canada's Building Trades Unions is
seeking an original union song or poem
that celebrates Canadian tradesmen
and women.
The creator of the selected submission
will receive $5,000 and will be invited
to present the song or poem in Ottawa
at the unveiling ceremony of the
Canadian Building Trades Monument.
ARE YOU…
→ A Canadian citizen or permanent resident?
→ A member of a CBTU affiliated union or family of a member?
→ The creator of an original song or poem that celebrates
Canada's building crafts and trades?

THEN CBTU IS LOOKING FOR YOU!
APPLY ONLINE BY APRIL 25, 2017
TO FIND OUT MORE: canadianbuildingtradesmonument.ca
---
February 2017
2017 St.Patrick's Day Parade
 Join your LiUNA Local 527&527A  Brothers & Sisters on
Saturday, March 11, 2017
for the annual
St. Patrick's Day Parade!
Please check out details on our Facebook Event Page
and let us know if you are attending to receive after-party tickets*!
*limited quantities available
---
January 2017
2017 Members' Survey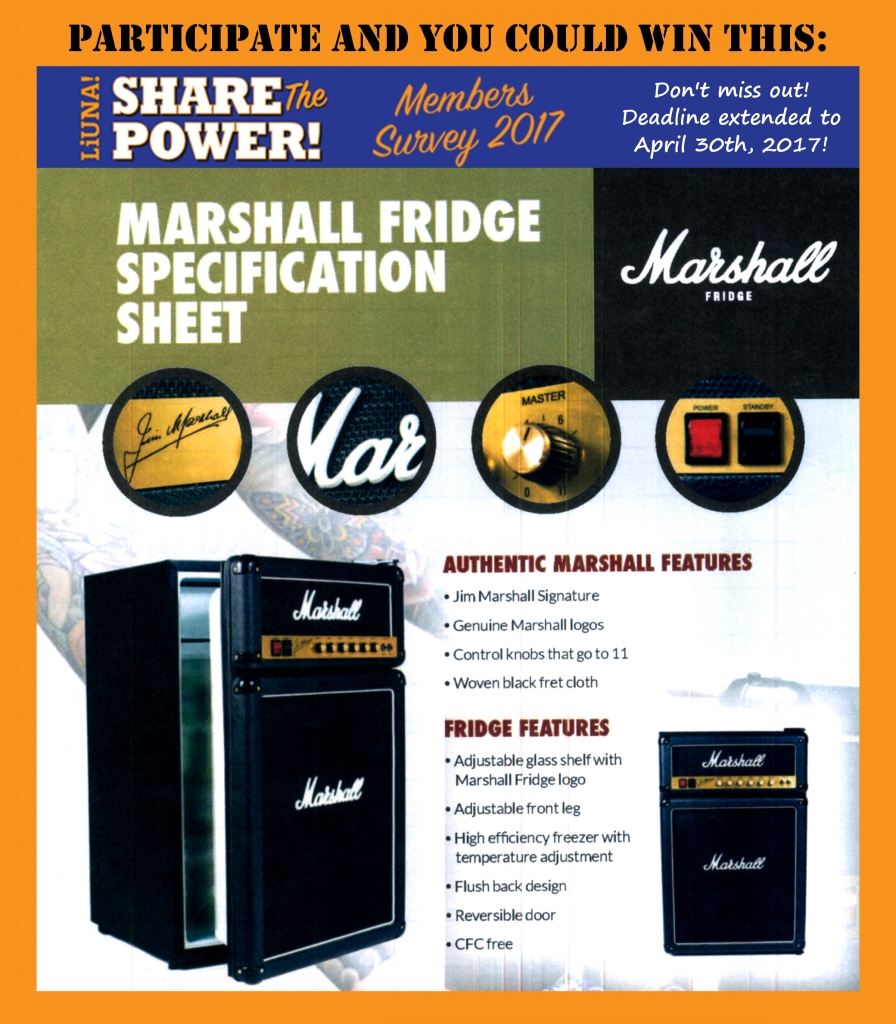 ---
December 2016
Letter from Local 527's Business Manager
I am writing to you on an extremely important matter to our union.
Thousands of well-paying jobs in the wind energy sector are at stake.
Since 2008, wind energy projects have invested over $14 billion in Ontario's economy and have created over 200,000 jobs in Ontario, many of which have benefited LiUNA members.
The government of Ontario has recently indicated that they may be waffling in their commitment to many of these high paying jobs. We cannot stand still and let this happen.
That's why we have played a lead role in creating the Renewable Energy Alliance of Ontario (REAO). REAO is a broad coalition of employers, labour and industry groups dedicated to working with the Ontario government to ensure renewable energy, including wind, continues to play a vital role in Ontario's energy mix.
Our alliance has created a web portal that allows you to express support for these jobs to your local member of provincial parliament with a few simple clicks on your keyboard. I urge you all to go to www.renewourfuture.ca to make our union voice heard.
Together we can show the government that our voices matter. We must act now to protect well-paying jobs for our brothers and sisters.
Sincerely,
Luigi Carrozzi
Business Manager
LiUNA, Local 527
---
October 2016
LiUNA! Local 527 & 527A donates $10,000.00 to CHEO
On October 27th, 2016, the Labourers' International Union of North America, Local 527 & 527A, was proud to present a donation of $10,000.00 to the Children's Hospital of Eastern Ontario. Mrs. Chantal Charbonneau, Director of Community Engagement & Annual Giving, graciously accepted the donation on behalf of CHEO.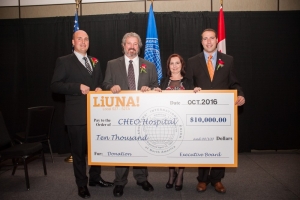 ---
August 2016
Heron Road Bridge Disaster 50th Anniversary Commemoration Ceremony
The Ottawa and District Labour Council hosted on August 10th, 2016, the 50th Anniversary Commemoration Ceremony of the Heron Road Bridge Disaster which occurred on August 10th, 1966. During the ceremony, the City of Ottawa official unveiled the plaque renaming the Heron Road Bridge to the "Heron Road Workers Memorial Bridge".
The collapse of the Heron Road Bridge remains one of the single largest construction workplace disasters in Ontario and one of the biggest in North America.  On that fateful afternoon, nine workers lost their lives, including three LiUNA Local 527&527A members, Brothers Domenico Romano, Joao Viega & Raymond Tremblay, and more than sixty were injured altering numerous lives forever.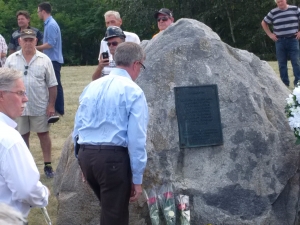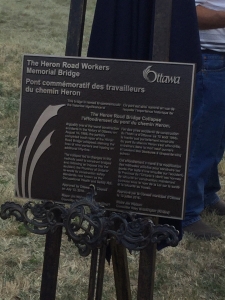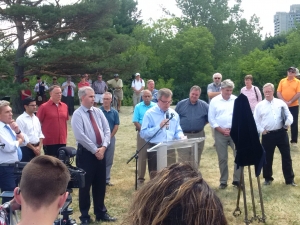 ---
July 2016
Historic MOU Signed between

TransCanada & Unions

On July 14, 2016, the Labourers International Union of North America (LiUNA), signed a historic Memorandum of Understanding (MOU) with TransCanada, along with the Pipe Line Contractors Association of Canada (PLCAC), the United Association of Journeymen and Apprentices of the Plumbing and Pipefitting Industry of the United States and Canada (UA), the International Union of Operating Engineers (IUOE) and Teamsters Canada. By signing this MOU, TransCanada agreed to assign to the signatory Unions all new pipeline construction and pipeline conversion work on the Energy East Pipeline Project.
This is significant news as it guarantees that our union members will perform work on Canada's biggest infrastructure project. This can represent thousands of jobs for members of the unions involved.
The momentous signing event was held at LiUNA Local 527's Training Centre: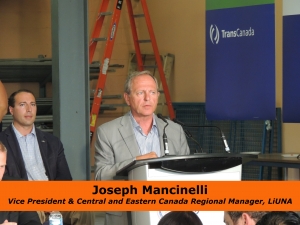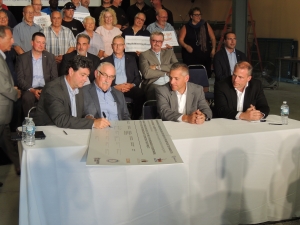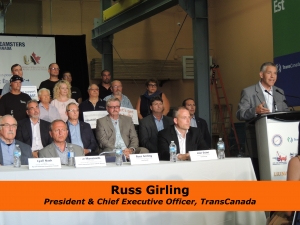 ---
June 2016
Murray Asa Ostrom
November 1, 1956 – June 25, 2016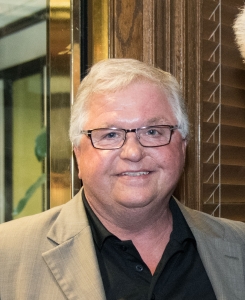 It is with the greatest of sadness that we deliver the heartbreaking news of the sudden death of our colleague and friend, Executive Board Member and representative of LiUNA Local 527 – 527A Murray Ostrom on Saturday, June 25, 2016.
A strong advocate of members' rights and a proud member of this organization for over 35 years and an employee of Local 527 – 527A for approximately 25 years, regardless of the challenges Murray may have had along the way including the tragic death of his son last year, his days became bearable by bringing laughter to everyone else. Everyone who had ever had the privilege of working with Murray found such pleasure to work with him; he will be profoundly missed here leaving behind now only those fond memories we have of him.
Rest in Peace, Brother Ostrom.
9,742 total views, 1 views today